AVAILABILITY SOLUTIONS – because there's no substitute for vehicle and fleet availability – Operational Optimization & Safety and Security Solutions.
Mobility is becoming increasingly complex, meaning that all maintenance and operating processes need to be as transparent as possible. That's why RailServices is happy to handle all the long-term monitoring of the systems we supply – including active obsolescence management, computer-aided environmental observation and the retrofitting of, for example, cybersecurity or (custom) safety solutions.
Contact
RailServices
Knorr-Bremse Systeme für Schienenfahrzeuge GmbH
RailServices is your partner of choice for overhauls, maintenance and repairs – and as your partner, we're ready to take operational responsibility for our systems over the long term. Work with us to reduce your downtime by streamlining your operations and maintenance. We'll support you with state-of-the-art digital and automated maintenance programs that optimize your servicing, predict imminent repairs, and eliminate unnecessary work.
Maintenance, overhauling, repairs
RailServices is the perfectly responsive partner: Our experienced experts take responsibility for the skilled, dependable inspection and overhaul of your rail vehicles. After all, only high-quality systems – backed by predictive maintenance – will keep your rail vehicles operating reliably while extending their service lives. Another benefit of working with RailServices? Before we return overhauled parts to our customers, we subject them to the same stringent testing as brand-new Knorr-Bremse parts.
Testing equipment and test rigs
Train brakes must be inspected at regular intervals to ensure that they are working properly. Mobile testing equipment and test rigs are designed for situations where no fixed testing facilities are available or getting to the nearest facility would take too long. The RailServices portfolio includes mobile testing equipment and test rigs for almost every conceivable track and trackside application, with wired and wireless versions catering to different local conditions. The latest models use powerful smartphones, transmitting data via existing mobile networks.
RailServices can supply vehicle operators with special service and diagnosis kits that make repairs and the more simple overhauls safer, faster and cheaper. These user-friendly kits contain all the tools you need for the job, along with clear instructions.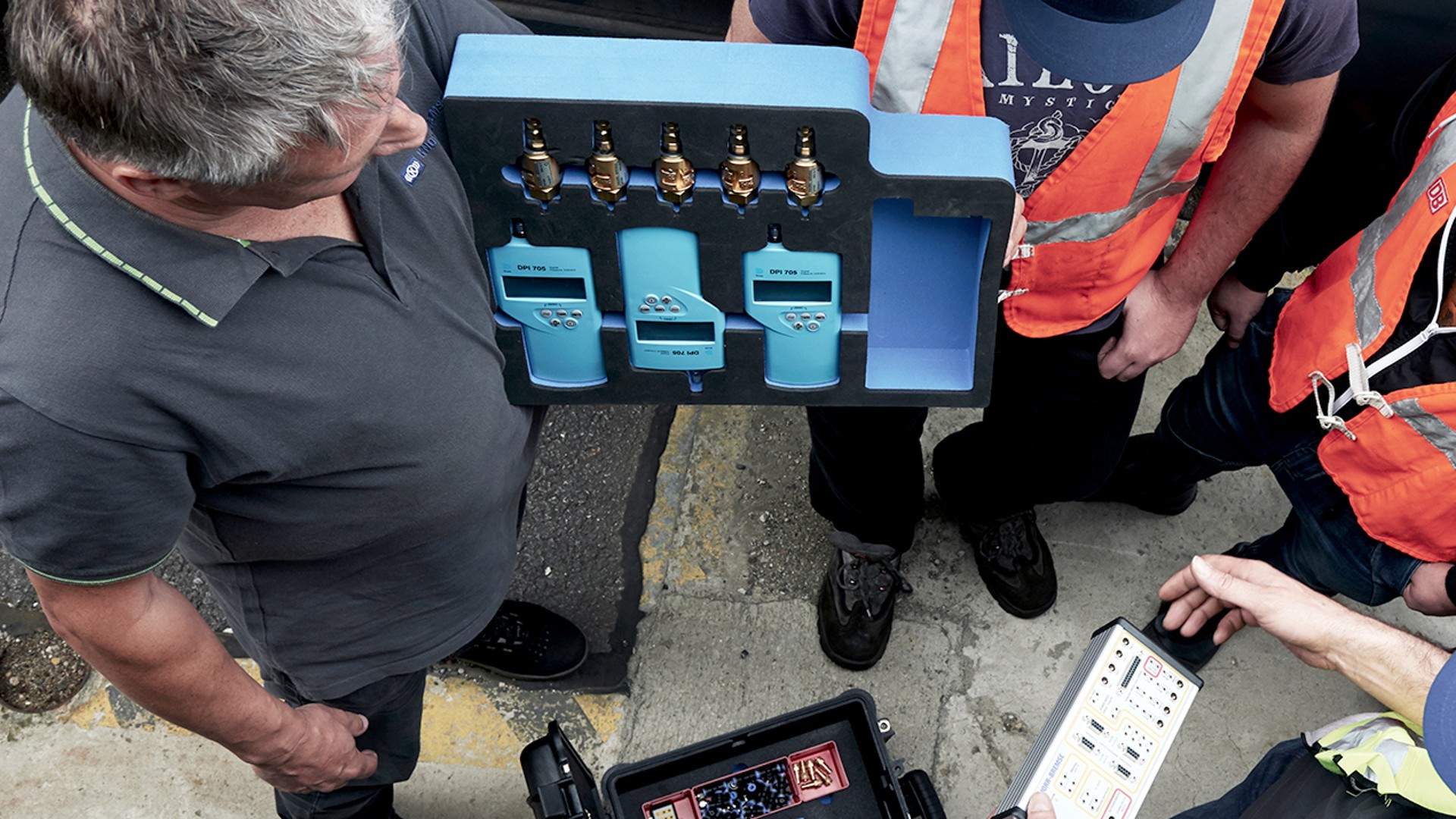 Top-quality original parts
Only original Knorr-Bremse parts deliver genuine Knorr-Bremse performance. RailServices can always supply original spare parts that offer operators the same quality and specifications as on a brand-new vehicle. Our aim is quite simply to provide outstanding delivery performance at all times.
In-house spare parts management helps operators optimize their inventories while reducing administrative costs. What's more, RailServices can guarantee that original parts remain available over the long term. Key subassemblies are made available in Original Part Kits that meet defined Quality of Service (QoS) levels and cut costs to our customers.
Thanks to dedicated friction pairings, RailServices is able to provide bespoke friction materials for almost any type of train, using any kind of product technology, across a broad range of applications. For example, we're currently retrofitting organic LL brake pads – popularly known as "whisper brakes" – to existing rolling stock.
Info 


Download Product Brochures
The RailServices World
Because the planet's future is at stake
Growing social awareness, as well as political decisions and legislation, demand active, inventive thinking and positive action across all sectors. Rail mobility is already regarded as the eco-friendliest, "greenest" mode of transportation.
Read more



Because it reduces costs, enhances efficiency and becomes more competitive
Rising demand and ongoing urbanization are fundamentally changing the way passengers and freight are moved around.
Read more



Because rail is set to become the backbone of tomorrow's mobility
To deliver the mobility of tomorrow, operators will have to respond faster and more flexibly to new challenges and requirements. After all, many things will change over a rail vehicle's operating life.
Read more






Übersicht RailServices