EXCELLENT SERVICE BASED ON CLEAR PRINCIPLES AND ATTRACTIVE SERVICE MODELS – OVER THE FULL RAIL VEHICLE LIFE CYCLE.
As a strategic service partner with a local presence around the world, RailServices provides services that cover the entire Knorr-Bremse portfolio – and beyond.
Knorr-Bremse has bundled its aftermarket activities for the rail sector under the roof of RailServices – providing innovative solutions for every stage in a rail vehicle's service life. With an in-depth understanding of rail operations, systems and products, RailServices operates independently of manufacturers and operators. Thanks to the global RailServices presence, top-quality on-site service is available at any time, delivered by 40 service centers and more than 2,000 service technicians around the world. RailServices teams, trained to the highest standards, transfer the skills and expertise of the global Knorr-Bremse Group into local service solutions.
Individual requirements need personalized solutions. That's why service packages are carefully tailored to each customer's specific needs, and why the aftermarket portfolio is so flexible. Services range from troubleshooting to efficient spare parts management; from OEM-quality replacement parts to full-service solutions that include engineering, state-of-the-art equipment and installation; from fully integrated overhauls through to the homologation of cutting-edge solutions.
Four areas, one strategy: the new drive to transform the rail industry
RailServices focuses on the synergies between four key areas of activity: "Environmental Improvements", "Process Optimization", "Availability Solutions" and "Lifetime Expansion". In real life, the best solutions are often the result of combining multiple services to add genuine value to rail vehicle operations – day after day. And by applying their well-established expertise, our RailServices teams help customers make the transition to digitalization and automation, transforming their operations and hugely improving the availability of vehicles and fleets. By continuously developing our services, RailServices actively contributes to extending rail vehicles' service lives while simultaneously optimizing operating costs.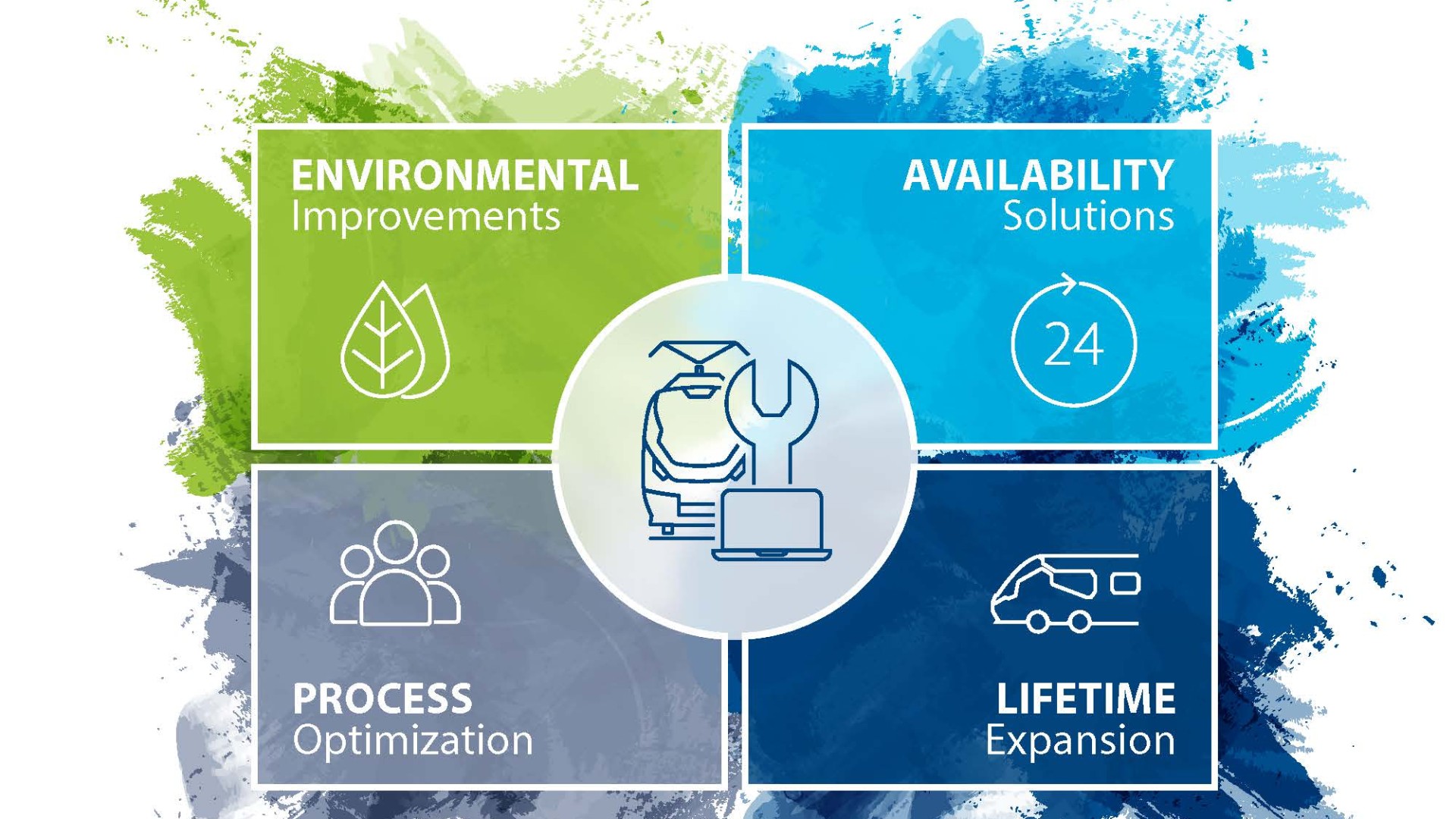 Back to start page