Process Optimization – Because it reduces costs, enhances efficiency and becomes more competitive – Business Benefits & Service Support.
Rising demand and ongoing urbanization are fundamentally changing the way passengers and freight are moved around.
Unscheduled maintenance is guaranteed to make passengers unhappy and cause freight operators to miss their delivery deadlines. The shortage of skilled workers is simply exacerbating these problems. Which is why it makes sense to optimize your processes, logistics and punctuality by using our flexible services and making the most of the opportunities offered by digitalization – for managing everything from spare parts, rail vehicle lifetime obsolescence, component upgrades, throughput times, modernization projects and cybersecurity through to logistics and scheduling.
Contact
RailServices
Knorr-Bremse Systeme für Schienenfahrzeuge GmbH
Flexible on-site support, local service centers and local field services – worldwide
To deliver high-speed services, you need high-speed processes. Thanks to our global RailServices presence – in the form of 40 service centers and more than 2,000 service technicians around the world –, we're able to provide outstanding and flexible on-site support. And because they're familiar with local conditions, our field service engineers – all trained to the highest standards – regularly use the Knorr-Bremse Group's global expertise to devise local service solutions. Our motto? "Think global, act local."
At the same time, RailServices is engaged in a continuous dialog with our customers. Working in close partnership with operators, we jointly decide which services are required to improve safety, cost-efficiency and environmental standards. And if you wish, RailServices can provide these services on your own premises by applying the shop-in-shop principle. After all, lean processes work best when communication paths are short and approval chains are direct and straightforward.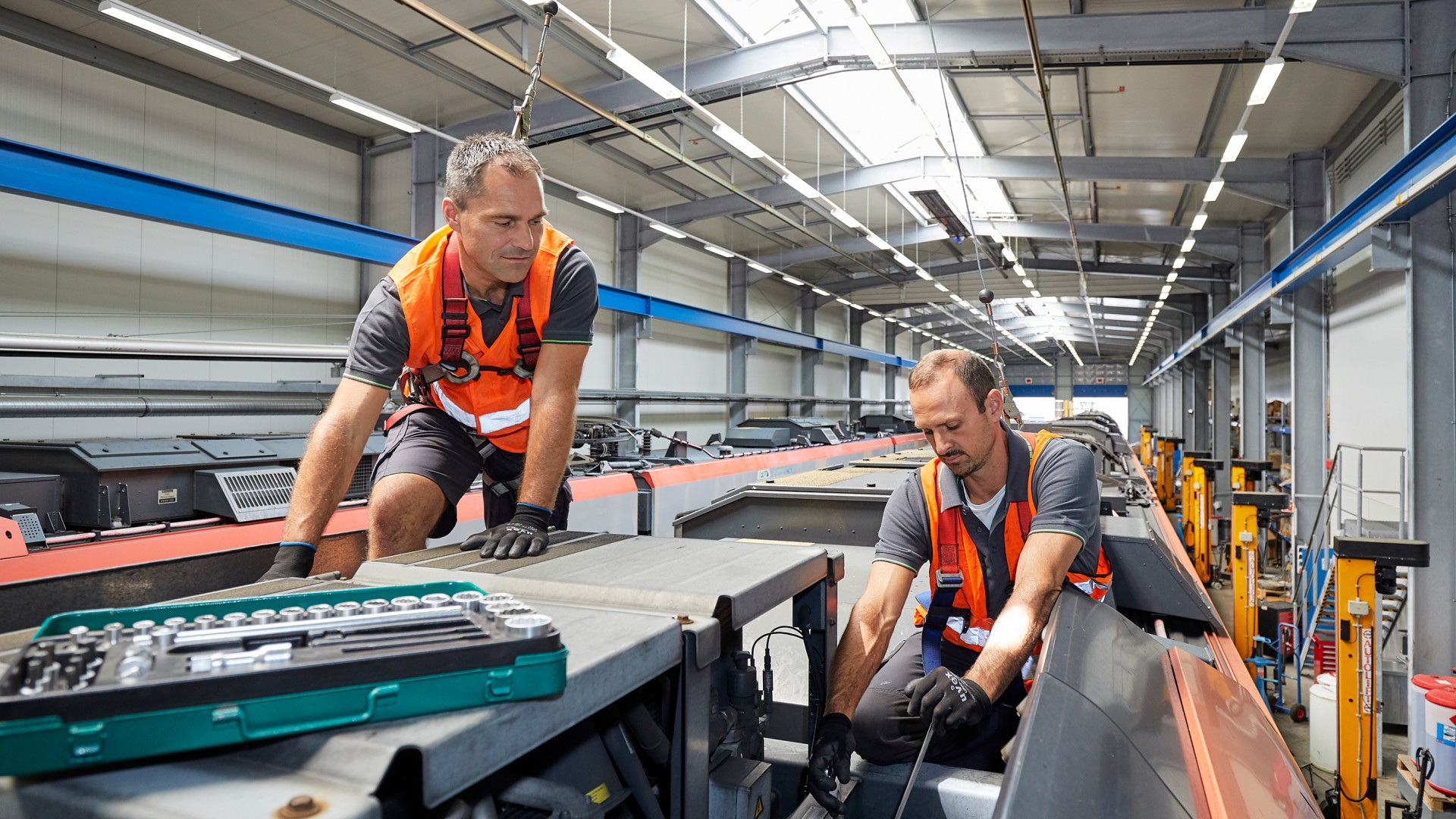 Training
For operators, nothing is more important than ensuring that your own personnel are thoroughly familiar with your vehicles' systems and subsystems. And who, after all, is better placed to impart this essential knowledge than the manufacturer of those systems, together with our team of experienced trainers?
This is why, at RailServices, we don't keep our comprehensive knowledge base to ourselves – we give our customers direct access too, helping you improve your own service quality and save both time and costs. We deliver theoretical and practical training courses via multiple channels: in-house on the CT2 demonstrator for rail vehicle braking systems at our RailServices training center in Berlin; through our digital "flying classroom" using e-learning techniques, or on your own premises using your own vehicles. Thanks to the modular structure of our training courses, they can be tailored to match very specific end-customer needs.
Learning from the manufacturer
The Knorr-Bremse RailServices Training Academy Germany as a reliable partner for training and further education - on site and virtually.
Read more



The RailServices World
Because the planet's future is at stake
Growing social awareness, as well as political decisions and legislation, demand active, inventive thinking and positive action across all sectors. Rail mobility is already regarded as the eco-friendliest, "greenest" mode of transportation.
Read more



Because there's no substitute for vehicle and fleet availability.
Mobility is becoming increasingly complex, meaning that all maintenance and operating processes need to be as transparent as possible.
Read more



Because rail is set to become the backbone of tomorrow's mobility
To deliver the mobility of tomorrow, operators will have to respond faster and more flexibly to new challenges and requirements. After all, many things will change over a rail vehicle's operating life.
Read more






Overview page